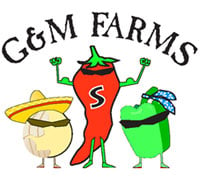 G & M Farms

is a small, family owned and operated naturally grown vegetable farm in Morrisville, NY.

 
HOMEGROWN    HANDPICKED

A lifestyle of backyard gardening and preserving evolved into a small family business that enables us to share the delight of fresh picked produce and old fashioned preserves.
For our family and yours, we use organic growing practices (but we are not certified organic) and have high standards for the food that is picked for each jar we make.  Taste and quality of our vegetables is directly linked to nurturing the soil and the freshness of the produce.
Our commercial kitchen enables us to preserve pickles, jams, and hot sauces…lots of hot sauces… at the peak of freshness.
We take great pride in offering a wide variety of nutritious food as well as unique selections not found at your local store. We are passionate about growing unique varieties of hot peppers and heirloom tomatoes.
Today, we sell a wide variety of organic fruits and vegetables as well as numerous hot sauces, four salsas, and fifteen jams and jellies.
Our hot sauces and salsas are produced with our own hot peppers, sweet peppers, and herbs and our jams and jellies are produced with our homegrown fruits. We are committed to providing our customers with the finest, homegrown, organic produce and products. Our products are all natural, have no preservatives, and are low in sodium. Taste the difference that fresh makes.
Visit us at two Farmers' Markets, pick up at our farm, or arrange for home delivery.
Pre-order Produce and Value-added products
To start your order, click Account in the upper right and create an account. You can then browse all of our current inventory on the All Products page. Just fill your cart and pay.
Hamilton Farmers' Market  Saturday 8:00- 1:00  May-October
Order online and pick up at the Hamilton Farmers Market. Just stop by our booth when you're ready, grab your completed order, and go!
Clinton Farmers' Market.  Thursdays  10:00-4:00  June-1st week October
Farm Pickup
Order and pay online and pick up at the farm. We will email you within 24 hours after you place your order to arrange a pickup time. 
Purchase our value-added products at these local retail stores
---
Product Availability
To see the products we have available at this moment, simply click on any product categories to the left. There is currently no minimum order size.  You can order anything you see listed.
Naturally, our inventory is changing all the time, as our supply of products is dictated by the seasons. We will do our best to keep inventories up to date. If any problems arise with your order we will contact you by email. 
Pick up protocols will likely fluctuate throughout the season, with changes in COVID-19, and as the markets fine-tune their systems, and we will get you the updates as we receive them.